Mrs. Margrit grew up in humble circumstances with her 7 siblings in St. Gallen, Switzerland. She was a good student and loved sport. She could do cartwheels like no other in her class.

Because her mother was working, after school she had to do the houshold chores and look after her siblings. Until her marriage, she worked without pay for the whole family. Soon after the birth of her first child, the couple went to Brazil to live. The family held great hopes of success with a coffee plantation.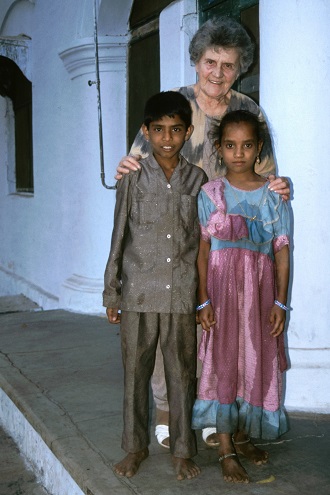 With a rich experience of living in the poorest conditions, she returned to Switzerland in the mid-1950s. Her organizational talents, her creativity and most of all her humour, helped her to manage day to day life with her 8 children. She continued to live during this time in modest circumstances, but remained contented and joyful.

In the mid-1960s, she won a world trip. How happy she was about that! The life of the street children in Calcutta, whom she met while traveling, deeply moved her, and she could not forget them. Back in Switzerland, she devoted herself to helping some of these street kids. She could only too well understand what it means to live with such deprivation. The following year, her youngest child was born, and as a result she had to be patient to complete the project.

She wasn't discouraged by the fact that she had to live on a minimal wage. She found work in her city as a cleaner at an export company. Tired from the daily work in her own household, but motivated to help, she did this work in the evenings for several years. She could not save much, but managed nevertheless to put some money aside.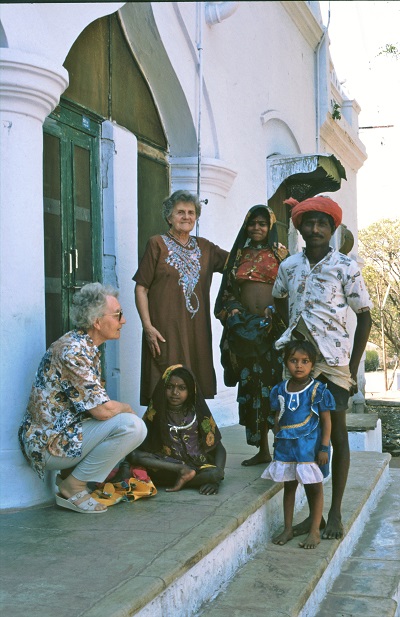 She had to surmount several difficulties before she was able to undertake her first journey to India, but owing to her dedication and commitment, she finally managed it. A few years later, she travelled a second time to India to help the poorest, with a heart full of joy and suitcases full of goods.

Back in Switzerland, she told everyone about her experience and observations in India. The donations increased. Many people have subsequently supported Gritli Schmied in her work - financial, bright ideas, or in practical ways in India itself. The work has continued to grow, a work that she did not beforehand would be so successful and help so many people.

To her, the donors are very important. During the time when she looked after the finances, she felt a deep gratitude for each donation, because she knew what she could achieve with it in India. She was touched again and again by the trust which the donors accorded her.
This motivated her to persist in her efforts. Even today, she takes great joy in each and every donation.